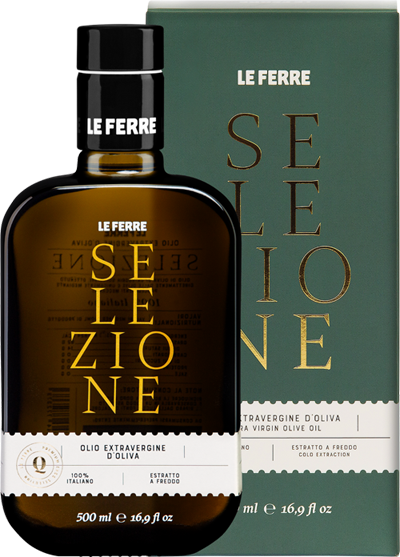 Blend of extra virgin olive oils, carefully researched and dosed with wisdom. Unique balance of flavours. Intense, ample, enveloping olfactory character, recognisable; soft body to the palate, intensity balanced by elegant harmony.
Ideal for dressing and finishing with taste and character any dish and food.
Bottle by 0,50 L Each Selezione Oil bottle is packaged in its elegant box.

THE ART OFTHE MASTER BLENDER

Selecting flavours and making harmonies is fine art, a profession of knowledge and love. The "blend" is the skilful combination of extra virgin olive oils selected in such a way that the olfactory, gustatory and emotional pleasures coincide with its quality and with the creator's sensory vision: the olive oil master, or master blender.
He is a professional of flavours, he doesn't mix oils but chooses them with care, he doses them with awareness to compose the bouquet of flavours that he intends to achieve, based on a clear and specific choice of taste. The selection must be harmonious, exclusive and recognizable over time, always.
Find out who's the master blender at Le Ferre.